The Trouble with Dreaming
Anything your heart desires will come to you….
- from Pinocchio.
Blame it on Walt Disney.  Dreaming has become romanticized on every level.  We're told to dream BIG and all our dreams will come true.  Just like that.  Often times, fulfilling our dreams is  magical, metaphysical, spiritual and awe-inspiring and, sometimes, it's a pain in the butt.
I woke up this morning thinking about the frustrations of being a dreamer and how we have been raised to believe that we can have whatever we can dream.  What's more disturbing is that some of us have been taught that all you have to do is dream.  We all know that's not true!
Before I go any further, I want you to know that I am a die-hard, never say never, don't ever stop, dreaming fool.  Having said that, here are some of my frustrations:
Frustration #1.  Exactly what are my dreams?  My real dreams, those that are encoded in my creative, spiritual DNA  and are supported by the universe and my own unique destiny?   What is my heart's deepest longing?  Some days I think I know and some days I feel I don't have a clue.
Frustration #2.  No one else can tell you your dreams.  With all the help out here, you still have to figure it out yourself.  You can't pay someone to  do it for you.
Frustration #3.  Dreams change. Our dreams and our passions tend to unfold and reveal themselves over time. The one-time dream  I had to be a teacher has now evolved into the dream to be an author and a speaker.
Frustration #4.  Dreams  can be a nuisance.  Some days I  want to sit on the couch, watch TV, and let the time slip on and on…and on. But my dreams won't let me. They keep calling my name.  My dreams won't leave me alone even when I wish they would.
Frustration #5.  Sometimes dreams flow easily and sometimes they don't. Living our dreams is like childbirth, we have to figure out when it's time to push or when to relax and let it unfold.  By nature, I am a pusher and so, therefore, sometimes it's hard for me to wait.
Frustration #6.  People will try to steal your dreams.  I don't know why it is but some people (often relatives) will relentlessly try to bring you "back to earth". We can speculate on many reasons someone might not want you to soar.
So, why bother?  Because actually Walt Disney was right. Later in the classic fairytale of Pinocchio, Jiminy Cricket goes on to say "A wish is a powerful thing, especially when it comes from the heart". The secret is to know your heart's desires. I can't have everything but I can have what is rightfully meant to be mine – my birthright, my unique talents, and my passions.
Some of our dreams are actually the dreams of our parents, or the dreams we think we should have, or the ones that we think will get us the most money, fame, or acclaim.  While these can be powerful dreams, they usually are not the dreams of our heart.
Your task is to discern which dreams are which.
Here's the test:  If it's a deep longing of your  heart,  you will find that you can't not do it. The discomfort that comes from not following your heart's call is much greater than any of the frustrations listed above.
I am following a big dream.  It's difficult, complicated, taking forever and  is extremely frustrating at times.   I've tried to quit.  I even unofficially retired for a few years. Yet the dream keeps pulling me back.  The dream energizes, enlivens, captivates, and inspires me.  And it also frustrates the hell out of me at times.
Stop to take some time to think about your dreams.  Ask, is this your dream or the dream of your ancestors?  Is this dream rooted in your soul or in your bank account?  Do your dreams relentlessly chase you and call your name?  Do they energize you and encourage you?
Being a dreamer (vs not having any dreams) is worth all the trouble. Just make sure you ask yourself, is this my dream or someone else's?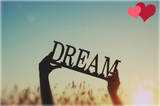 Powerful Questions:
What dream have you given up on because it was just too frustrating?
Is that dream still calling your name?
Is it calling from the heart?
If it is, are you ready to go for it again?
_________________________________________________________________________________________
New Upcoming Women's Group – This group is for women in the local area that want to create a community of support and sisterhood as we take some time to get still, take stock, create a vision, and go for it. Sign in  for more information about this powerful journey for personal transformation. Let me know if you're interested as group size is limited.
It's time to finally become who we are meant to be! Why not? After all, this is your one wild and precious life being lived out in these wild and precious times. I'm ready for it, are you?
Tags: Dreaming, Pinocchio, Walt Disney
6 Responses to "The Trouble with Dreaming"
Kathy, thanks for this reminder…living our dream, our life's purpose is living out our soul DNA. As you know, I too have tried to turn away, let go, ignore my purpose, my passion. What I do know is that I feel worse when I do this…when I commit to staying on my path, I come to life (although there are some days, I feel I've drained my body's battery!). I know, deep in my heart that I can't turn away…and so I breathe, step into my fear, put one foot in front of the other and keep going…one soul footprint at a time…
I love that phrase…."one soul footprint at a time". Beautiful…
Hi Dr. Kathy, Dreams…I love this and I am proud to say after years of doing my soulful work with you….I get it. ,… My dream boards have come ALIVE….the man …the boat…the courage to take 2 months to sail away…with no shedule….just a great big grateful heart…ready to enjoy the ride…welcoming the unfolding of each day.. The time to live is now…I am not getting any younger…I am going for the adventure …full speed ahead….Wow….Now that what dreaming can do..
Love, Brenda
Great—your remarks bring a realistic approach to "the dream" helping to define what is truly "the dream" and what is wishful thinking. Knowing the difference is the key to success. Thanks.
Im obliged for the article post.Thanks Again. Great.
When I initially commented I clicked on the Notify me any time new comments are added checkbox and now every time a remark is added I receive 4 messages with the same comment.
Leave a Reply