Is The Journey Ever Really Over?
It's been very difficult to sit down and write this blog.

This is the last travel entry.

The journey is over.
Of course, the journey is never over ~ in this life or the next.  There are just different stages and different kinds of journeys. For us, last year was the journey of a lifetime. Leaving our home in 2012, and then traveling around the country and into Canada ~ visiting spiritual sites, learning centers, and the best of Mother Nature. It was a huge leap of faith. It's been one adventure after another. We've stacked hay on a Christian dude ranch and been pampered at an Indian ayurvedic spa. We've prayed with the Hindu's and chanted with the Buddhists. It's been quite a ride.  And now we've come to the end of the journey ~ or is it just a part of a bigger journey?
The Hero's Journey
We've been on what Joseph Campbell calls the Hero's Journey – the universal, archetypal path for courage, faith, and living a brave life. It's a path we all take at some point. At different times and usually more than once in our lives, we hear the call ~ the call to shift, to change, and to grow. Sometime's it's a quiet inner voice and sometimes it's a  loud, thunderous lightning bolt. It can require a huge leap like moving across country or it can be a small shift to being honest with the people you love. It almost always requires faith and often can be scary.
Campbell's Hero's Journey helps us understand the path ~ what likely happens to us when we decide to say Yes.  Yes to the deep inner callings. Yes to our (S)self. Yes to the Universe and God. Once we say Yes, life then takes us on the adventure.  In all great hero myths, there are trials and tribulations as well as great peaks and deep valleys. You will be tested but, ultimately, at the end of the journey, you return home ~ wiser than when you began.   
Returning Home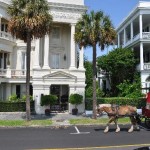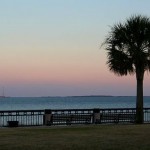 We finally returned home ~ to the place where we began.  Charleston still takes my breath away. This is a visually stunning place.  This small southern city has everything ~ from physical beauty, rich history, and colorful people to high cuisine, art, and the world renowned Spoleto Festival. There is culture oozing out of every corner of this sophisticated city.
We have loved living here.  South Carolina has been home for both of us for decades.  We wondered how it would feel to return after such a long separation and after the year we've had. Things are always different. As they say, "You can't step in the same river twice".   Charleston had changed and so had we.    Somehow, yet again, we  knew that it was time to make another change…to take another leap of faith.
You are to be the hero

of your own life.

~ Joseph Campbell
What great adventure do you want to say Yes to in your life?
What's Next?
Throughout this past year, we listened to our inner guidance.  We said Yes to each great adventure that was waiting for us. And there were many. It's truly been an adventure, with many memories and many tales to tell. (Most of them have already been told on these blog posts throughout the year.)  But, for now, the travel part of our journey ends.  We stayed a month in Charleston, said our goodbyes to friends and family (not easy),  and flew back to our new home in San Luis Obispo. We are moving to Central California ~ lock, stock, and barrel ~ this week.
Michael's Point of View
"Tell me…

What do you plan to do

with your one wild and precious life?"

~ Mary Oliver 
What a year!  I am filled with gratitude to have been able to take this journey and to have experienced so many beautiful places and loving people.  I have expanded my awareness and deepened my spirituality. It's been a huge gift.  I feel more alive than I ever have.
But I am also tired and sad.  Tired of living out of a suitcase and in other people's places and sad that by moving to the west coast I am distancing myself from family and friends on the east coast.  My hope is that they will want to visit this magical place called San Luis Obispo.
The moving truck with all of our belongings will be here next week.  Kathy and I will begin to make our new nest. It feels good to be settling for awhile.  We have been so welcomed here.  I find myself walking this town with the energy of a 20 year old.  People smile and say hello. The air is fresh.  The sun is warm.  And there is a gentle, caressing breeze.  It feels good.
What I've Learned
My hope is that I will take all that I have learned and experienced this last year and make it a part of my daily life.  I am looking forward to finding a place to be of service.  I want to take the rest of my life and help other people however I can.
I have known for awhile that life is short.  I have had friends pass away before it was time.  In my 20s, 30s, and even in my 40s, I lived like life would go on forever. Now I realize that everyday is precious.  I want to live each day with meaning, joy, love, and gratitude.
I encourage you all ~ young, middle aged, and seniors ~ to get quiet, be thoughtful, listen to your inner voice, and realize what makes you happy and know what gives you passion.  And then do that.  Live your life ~ your one wild and precious life ~ not the life that society, friends, or family tell you you must.  This is my hope for all of you and I say this with love ~ wherever you are on your journey, may it be filled with meaning and joy.
And the journey continues.  It's on to the next chapter.
Thank You 
It has been our heart-felt pleasure to share our journey with you. You will never know how much it has meant to have you along.  We loved the support, the feedback, the laughter and the questions.  It is our hope that we've shared something of value ~ something that has inspired, informed or entertained you along the yellow brick road of our grand adventure.   
The end result of all of our Hero's Journeys 
is that we share our hard-won wisdom with each other.   
With deep appreciation and much love,
Kathy and Michael
19 Responses to "Is The Journey Ever Really Over?"
Kathy and Michael, your post was touching. I had to fight back the tears. I was drawn into your souls, your growth, your adventures! I can't tell you how happy I am that you have walked the path of The Hero's Journey and found your niche in San Louis Obispo. Charleston won't be the same without the two of you, as San Louis Obispo will never be the same once you arrive, bringing and sharing your beautiful energy with all those you meet along your path. Journey on! Fly high! Embrace what is and what is yet to come! You will be missed!!!
What a sweet, sweet message. Thank you. You too my dear, dear friend will be missed though we get to keep up with your weekly inspirational messages, love them.
Hooray! So look forward to seeing images of your new life/home. Indeed you chose a slice of heaven to land…xo to you both. I go with you in spirit! Still tethered here…
Loved our time together while you were in Charleston…wishing you love, peace and inspiring adventures out in California. We look forward to seeing you living your full life in SLO!
Kathy and Mike,
I have loved reading your blogs. Even though you are settled in SLO, I hope you will at least every now and then, write more. Kathy, I have never met you but from reading your blogs and listening to Mike talk about you, I feel like I know you and I know I my wife and I would like you.
Mike, I will surly miss you. In Group with the exception of Henk no one got it that when I lobbed right wing grenade my tongue was in my check; you always did. A true sign of great intelligence.
Mike do you think a southern, old time republican (not a damn tea party type) grit like me could even begin to comprehend anything Joseph Campbell wrote? I know my wife will make it required reading.
All that aside, please know that I wish y'all continued peace and happiness.
Best always,
David
.
Oh David, I so wish I had met you too. Though I feel I have through Michael's stories about you. All you need to know about Joseph Campbell is that he says if we follow our bliss, we will find our happiness and our lives. Are you following what makes you happy?
So sorry I missed you guys whilst in Charleston. Hope we can get to West coast sometime soon. Love & hugs, B & Rosie…;-)
God speed! we will miss you!
Roger and Karen Boger

says:
I am very glad for you both….Have always known that you were and are very special people. Can't wait to spend a few very special moments with you personally..Our intention is to locate in South Carolina very soon..Thanks for being all that you are !! Roger and Karen Boger
Brenda Whitlow Craig

says:
My dearest heart friends, another chapter.
I so enjoyed our retreat time , laughing , eating. Being pampered a little, Mostly sharing heart stories. It was wonderful just "being" with you. Looking face to face really meant a lot to me. I have missed you and I am truly grateful for all I have learned from you and I cherish our friendship.Thank you both for sharing a year of adventure. I am looking forward to a like kind adventure myself.
I write you with a touch of sadness and yet I am truly really happy both have found "home"for now. It's interesting how we can feel sad and happy at the same time. Just know, wherever life takes you .I am there.
Looking forward to seeing you in Calif. after you get settled. Can't wait to see the pics of you new home. Enjoy Calif. and we will stay close. Kathy, I hope you know what a gift you are to me .
Love, Brenda
You are one of the great girlfriends of a lifetime. And you do this for many, many other women. I absolutely cherish every bit of time we get to spend together. I know you of all my friends will show up here…just to check out what we're up to.
Kathy ; I am so happy for you to have found that one perfect person and love . You do
so deserve all the riches and love that the world provides. I do miss the time that I
spent getting to know you. I wish for you continues love, health and happiness.
You have given so much to so many
Warmest Regards
Robyn
Dear Kathy & Mike: I have known you both for many years, and seeing you
at Unity of HH a couple weeks ago was a real blessing. I have not forgotten the many times we have talked and shared our love for one another. I have enjoyed reading about your journey and hearing about it from you touched my heart. You both radiate love wherever you go and I know you new home will be blessed by your presence. Hugs and Love to you both, you are a wonderful example of a loving couple.
Love & Light, Judi
All the best to you both! You will be missed but it certainly sound like it has been an incredible journey and will continue to be in the years to come. Nicole and I can;t wait to hear about your new adventures! – David
Wow…. through meeting you in Affordables over a year ago, i had no idea how it would resonate the very existence of my own changes. I found how each update shared could apply to ones own path. I am saddened to know the chance of getting to know you better has taken on another direction but happy it has opened up a new door to a whole another level of growth and life.Thank you for opening your hearts and sharing….Many blessings Richey
Kathy and Michael – so the journey ends, and a new one begins. You have been on my mind the past week or so. I thought I should check on what is happening with you via the blog. So timely – I am so happy for you both. So envious of the courage and faith that you took the road less traveled, and now you have found a new home. May God continue to richly bless you – as you have blessed us with your stories. Please keep the blog going!
Namaste'
So exciting!! I have been wondering what is next for you. Looking forward to more great news! Love, Nancy
Kathy,
I look forward to reading your blog posts from SLO in Cali.
Godspeed and Namaste
MaryAnne
Sorry I missed you while you were back in Charleston!
Good luck in your new home in sunny California! It sounds like you had the trip of a lifetime!
Leave a Reply