The End of Our Pilgrimage
As promised in our last blog, here are pictures from the world's most photographed building – an architectural masterpiece – a World Heritage site – one of the Seven Wonders of the World and one of India's biggest treasures – the Taj Mahal. In addition to being an exquisite sight to behold, the Taj Mahal is also an eternal love story for the ages.
Shah Jahan of Agra built the majestic tomb for his wife Mumtaz Mahal who died giving birth to their 14th child. It is said he was so heartbroken after her death that he ordered the entire court into mourning for two years. He then built what is considered the world's most beautiful monument to hold the tomb and the memory of his beloved. It took 22 years and 22,000 workers.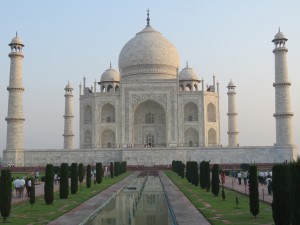 Sunrise at the Taj Mahal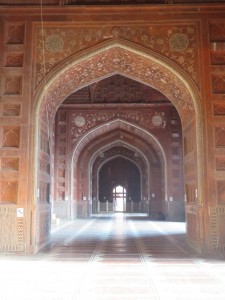 .
.
.
.
.
.
.
.
Gateways to the Taj Mahal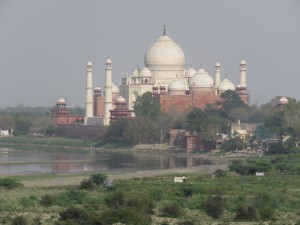 The Taj Mahal as viewed from The Red Fort
The Red Fort
Near the gates of the Taj Mahal is the 16th century monument known as the Red Fort of Agra. The Red Fort is a palatial walled city that houses many spectacular palaces within made of both red sandstone and white marble. I loved the majesty of the Red Fort almost as much as the Taj Mahal.
Eventually Shah Jahan, who built the Taj Mahal, was imprisoned in the Red Fort by his son who thought the Shah was unfit to rule because of the money that was spent on this massive project.  Alas, at the end of his life, the Shah could only view his beloved's tomb from the balconies of the Red Fort.  He was never able to visit her again. Yet ultimately he was buried next to her in this great tomb upon his own death.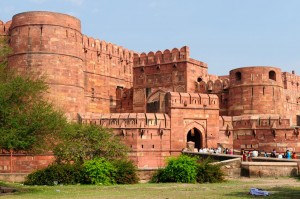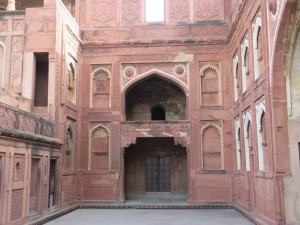 .
.
.
.
.
.
.
.
The Red Fort
From Michael's Point of View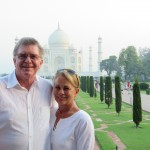 I saw the Taj Mahal for the first time 27 years ago. It was the most magnificent building I'd ever seen. From every angle and from any distance it took my breath away. It still takes my breath away! It did not disappoint me this trip. Yes, there were more people, security, and areas blocked off, but the Taj continued to dominate the land and show it's various colors as the sun rose and played on it's marble exterior. And the detail up close – amazing! The Taj Mahal is the ultimate love story and I was looking forward to sharing it with Kathy who is the love of my life. It was a very romantic day and one I will remember for a long time.
So what do I bring home with me from this pilgrimage?
Gratitude.  Realizing how privileged I am to be living in the US and realizing that most of my problems are small and manageable compared to what I have seen over the last six weeks.
Family and Friends. Nothing is more important. I missed my family and friends in the US a lot.  But I also made a number of new friends on this trip that touched me very deeply. They made this trip very rich.
Happiness. The people of  Bali and India showed me that happiness is more an attitude and a choice rather than an accumulation of things.
Spirituality.  There are many paths to God and there are many ways to live.
It's a big, complicated wonderful world filled with a lot of good people.
Returning Home
We left beautiful Agra with it's majestic monuments and thousands of tourists to return to Delhi one more time. We've been back and forth to Delhi so many times on this trip that it was beginning to feel like home to us – which is funny because there is nothing about Delhi that is familiar to our world here in California…at all. India is about as far away from our day to day reality as it gets. But that's the point of a pilgrimage.
The expanded life leads to an expanded consciousness. ~ Carl Jung
The result of all travel is to leave the known for the unknown, to leave your comfort zone, to open oneself to new experiences, to learn something new, and to grow into a larger life and a larger world. I believe all travel is spiritual pilgrimage because it causes us to see the world, others, and ourselves in new and different ways. It teaches us that there are many, many ways that life is lived on this planet.
From these types of travel experiences, our hearts and our minds expand. We become citizens of the world, members of a shared humanity that cross all cultures and geographies. We begin to see each other simply as people, no matter how different we may seem. We begin to care about parts of our human family that we didn't even know about before.
 All spiritual practice is about remembering. ~Pir Vilayat
This was our intention for this pilgrimage. We wanted to be reminded that this is a huge, huge world. We wanted to be shaken out of our complacency and any narrow mindedness about life. We wanted to see life in all it's colors, shapes, and smells and to try to love and appreciate all of it – from the smiles of the Balinese people – to the deep spirituality of the holy men on the Ganges River – to the beggars on the street. We want to remember all of it.
Home Sweet Home
We are so glad to be home. We are so glad to have the life that we have. And we never want to forget this. This is the final stage of a spiritual pilgrimage – reflection and integration. How do we keep these fresh new awarenesses alive in our daily life back at home?  How do we stay awake to the similarities and the differences we found on the other side of the world?  How will these new perspectives affect how we live our lives?  How do we stay humble and grateful for all the graces we have?  This is the ongoing work that happens after the travels end. The unpacking from this journey will continue for quite awhile. And I'm sure the gifts of this journey will keep coming.
Thank You
We have loved sharing our experiences with you. Writing this blog has been our way of bringing even deeper meaning to our trip. We know most of you can't be on a trip like this right now and some of you may never be able to physically visit Bali and India. It is our prayer that sharing this journey gave you the opportunity to be on pilgrimage right along with us. We hope that through our sharing you too have been cracked open a bit and have maybe become more aware and accepting of life and humanity around the world because of our journey.
Thank you for being with us. We have appreciated all the kind words of appreciation and the support. When you're far away from home, it always helps to know there are people thinking of you and pulling for you. And believe me, we felt the love. We hope you enjoyed the ride.
Til next time, may we all travel well on this ultimate pilgrimage – the journey of a lifetime.
with love, Kathy and Michael
Tags: Agra, Red Fort, spiritual pilgrimage, Taj Mahal
30 Responses to "The End of Our Pilgrimage"
Leave a Reply