Ever Wake Up and Not Know Where You Are?
It finally happened.   After all this traveling, I woke up this morning and had no idea where we were.
More specifically, I didn't know where the bathroom was. And you know this is important. As we age, going to the bathroom, in the dark, in the middle of the night, is a standard practice that happens at least a couple of times per night. At home,  we unconsciously get up and go on automatic pilot. We don't even need the lights. We know where we are.
But this morning, not only did I not know where the bathroom was, I also didn't know what state we were in. Of course, it was only for a split second, but in that split second, I had no idea where I was…
And No Wonder….
Interactive Map by iMapBuilder
From My Point of View
We left Unity Village in Kansas City (my favorite experience yet) and arrived in Colorado two days later.  I was looking forward to showing Kathy the majesty of the Rockies and the cool, hip towns of Boulder, Vail, and Aspen. Then we would go to Moab, Utah, to see the unreal landscape of the high desert and the sculpted red rocks. Lots of cowboy movies have been made there. We loved these mountain towns. I video-ed a few seconds of the creek that ran beside our condo in Aspen.  It was heavenly.
Finding a Dentist…on the Road…on Friday
Then Kathy's teeth began to hurt.  And the pain got worse.  She didn't tell me for a few days, until it became unbearable.  Suddenly the Rockies and the red rocks were unimportant.  When the one you love is in pain, all you want to do is try to help the pain go away. So our exploration of the Canyonlands, Bryce, and Zion were cut back to a quick drive around Moab.  It was enough to understand the unique beauty.  We had teeth to take care of.
We saw our first dentist in Aspen.  He was sure Kathy needed a root canal but he didn't have time to do it.  We learned that most of the dentists in these parts take Friday off and work only a half day on Thursdays. Balancing work and play is to be admired ~ unless you have a toothache!  We called for a dental appointment in Grand Junction, Moab, and St. George…no luck. Everyone was enjoying their time off!  Finally, we got one in Salt Lake City, Utah.
After the much appreciated root canal, we visited Temple Square ~ home of the Mormon Tabernacle. Monumental. Gorgeous. Gracious.   The day we were there they had 27 weddings at the Temple Square and it was a weekday.  Kathy loved watching all the different brides in the gardens.  It was festive.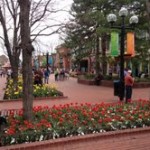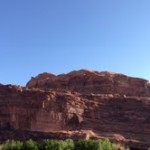 If You Want to be a Cowboy,
You Gotta Go to Jackson Hole…
The next day we drove through the beautiful Idaho countryside, over the pass, into Jackson Hole, Wyoming. What a great town!  Like Aspen, you can walk the streets and look up at the ski slopes that come right down into the town.  There are covered wooden sidewalks and old west saloons with live music and lots of dancing. We were also there for the annual Cowboy Day Parade. Check out the video.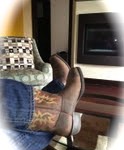 This is a town that likes to party.  Even though this is their off-season, we went to the Silver Dollar Bar and Grill on a Tuesday  and the place was rocking. The local band, One Ton Pig, was playing. They were fantastic. They call their music Chicken-Fried-Prison Music and it will make you want to dance.  Check out their video. There is a Wild West feel to Jackson. I just had to buy some cowboy boots so I could properly walk the town…and dance.
Then…the other side of Kathy's mouth started to hurt. We extended our stay in Jackson and saw two more dentists and had one more root canal.  I can't praise Kathy enough for how she handled the pain of the last ten days.  Now we think/hope that this will be the last of her dental issues.
My Biggest "Wow" Moment Yet
I have fallen in love with the Grand Tetons.   This is my first "I can feel God in Nature" experience on this trip. The road from Jackson to the south entrance of Yellowstone National Park is breath-taking. I had a smile on my face the entire drive. Kathy said I kept giggling and saying WOW. Yes, we saw Ol' Faithful, but, for me, that was nothing compared to the Tetons.
The Tetons are majestic, jagged rocks jutting into the blue sky,  still cradling snow in their upper crevices. They are a spectacle of beauty and power.  By the end of the drive, I had tears of pure joy.  We also hiked around Jenny Lake which is circled by these white-capped wonders. You've got to see The Tetons!  You won't be disappointed.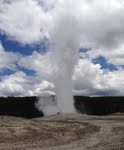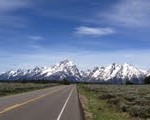 .
The Inner Journey
Home is not where you live. It is not your address. It's not the physical place you eat and sleep.

Home is that place within that knows your heart's longings and  keeps calling you to come back…to yourself.   ~  from Your Possible Life
Being a seeker fulfills deep longings in both of us.  Michael has been a worldwide traveler since he was a very young man.  I am the daughter of a career navy family.  We moved around quite a bit when I was very, very young.  I liked it then and I still like it now.
Yet there are things about a permanent, physical home that are missed ~ like knowing where the bathroom is and having your own dentist nearby.  I often think of the next nest we will build. I wonder what our external home will look like and where will it be.  But for now, the calling for us, is to be on this journey, seeking and having experiences and adventure.
Being on the road requires that we be in a  constant state of present awareness.  Most of the time, we don't know where we are, so we have to figure it out in the moment.  We have to stay awake.  I love how this is also a metaphor for being awake in our lives.
Are you awake or on automatic pilot ~ are you going through life with the lights off? Where are you on your own journey?
Coming Up
I do know where we will be for the next week! Today we leave Jackson, Wyoming, for a week at Ring Lake Ranch. Someone called it "a spiritual dude ranch." Watch the video about this retreat center just east of Yellowstone and the Grand Tetons and you'll be as excited as we are about this opportunity. This is a week of service and a week of quiet.  (No TV's, etc). Maybe this will be a time to slow down and integrate all of these awe-inspiring experiences we've had so far.  The first thing I wanted to know was, did our cabin have it's own bathroom? We'll let you know all about it later.
 

Join Us on The Journey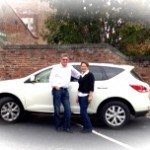 We hope that throughout the year you will keep clicking through to see where we are. We are requesting input and feedback from all of you. Tell us where you'd like to go.  Make suggestions for us. Ask us to check some places out for you!  We are also hoping some of the places we visit and the experiences we share will ignite your life and maybe even set you off on your own spiritual journey.  We'd love to hear from all of you.  And if you know anyone who may be interested, please share our blog.
Tags: Aspen, Boulder, Cowboy Day, Grand Tetons, Jackson Hole, Moab, Mormon Tabernacle, Ol' Faithful, One Ton Pig, Ring Lake Ranch, Salt Lake City, Temple Square, Vail, Yellowstone, Your Possible Life
9 Responses to "Ever Wake Up and Not Know Where You Are?"
I am really enjoying reading about all you adventures.
Blessings on your journey,
Cerantha
My first impression is that Kathy has sinus infections. I had severe upper teeth pain to the point of thinking my teeth were falling out. Dentist told me NO and PCP put me on serious antibiotics, which instantly rid me of all mouth and head pain. Since you are switching beds, altitude, pollen counts, etc, perhaps arming yourself with a good homeopathic sinus remedy will help. Root canals that suddenly are questionable and I am sure with the costs, some dentists would gladly take your money. Hope you are OK now and perhaps you should find a spot and stay for a while to rest your weary bones. I was glad to be back after merely FOUR days away from home. oxox
I hope you made it to the Tea House while in Boulder. It is one of my favorite places in all my travels. Safe ones to you!
Praying for no more pain and a lot of peace. Prophet Muhammad pbuh said, "even the pain of a prick of a thorn washes out your sins"
Perhaps you are being given and being tested:)
May you come thru with flying colors!
Jackson Hole and the Grand Tetons are also my favorite but there is more waiting for you as you travel west that will take your breath away and you will bow your head to the Great One who created this beauty.
Serene travels!!
Michael, Love the boots!
I am amazed at how resourceful you two are. I know you can find anything on the Internet but tell me what do you google?
Enjoy hearing about all your wonderful experiences and I always watch your short videos hoping to catch a glimpse of your smiling faces!
Brenda Whitlow Craig

says:
hey you all, love your boots, so proud of your bravery. Kathy sorry you have been in pain sweetie. Be well , Much love, Brenda
Just want to thank everyone for the sweet notes of concern about my dental issues (I hope I've written each of you privately)…but I am fine now…and am so grateful. WE had such a good time in Jackson Hole and today are at our new home in Dubois, Wyoming…the coolest ranch ever…tho they did tell me not to get sick because the closest hospital is hours away…
Looks like Jackson Hole gives Macy's Thanksgiving Day parade a run for its money.
And I definitely have to put "One Ton Pig" on my list of favorite musical artists!!
O.K. …SO i sat here at 12:00 midnight after watching the additional footage on Mermaids with my mom (visiting them in Hendersonville) for couple of weeks…Then i had to check to see if i had "connection lol Wi-Fi as it isn't very good.Beginning to take on a more less hectic lifestyle and i do believe it is in order…lol ANYWAY…..I checked my emails right before going to bed and i think it was the best laugh ever relating to the bathroom issue.;) Always love your blog and ALWAYS wish you safe journey especially on this Memorial Day Weekend. Prayers be with you …;)
P.S…My mouth is watering and starting to hurt at the THOUGHT of you having to go through the infamous trips to the dentist…Hhmmm
BUT… I DO want to offer you a endless invitation to shoot me a email ANY TIME throughout your journey. I have received my REIKI I /II certification and can send healing to you anytime you need it…;) I can do remote healing and though i am fairly new to this i have been told i am "pretty damn good" LOL
Take Care and love hearing from you both…;)
Richey
Also….Don't feel you have to write back…lol if in pain send up smoke signals a.k.a. (email)…I'll get it!!!!
Leave a Reply