Lost in Pennsylvania
After three days in Gettysburg, we got in the car and headed east on Hwy. 30 (the Lincoln Highway) towards Philadelphia. It was a straight shot. I don't know how we got so lost.
Michael is the designated driver and I am the co-pilot ~ the navigator. We have the navigation system on our new car  and Mapquest on the IPad. That might have been the problem.
I had dueling electronic gadgets (both with voices) telling me two completely different routes. It was like having two virtual backseat drivers. After finding ourselves in the downtown slums of York, Pennsylvania, we finally had to pull over and stop.
We were definitely lost and confused. However, in addition to losing our direction, we had also lost our peaceful state of mind. We were frazzled, irritated, and grumpy. After all that time at the ashram too, what a shame!
Michael was the one to remind us that, first of all, we had a choice. We could be lost and upset or we could be lost and okay.  We decided to be okay.  We each took a deep breath, calmed down, and decided to pay attention to our own intelligence and intuition.  Only after getting centered and re-oriented did we get back on the the road.
Sounds kinda like all the voices in our lives (and in our heads) telling us which direction or which road to take…some completely different from the others. Sometimes you just have to stop, take a breath, and listen for your own wisdom. How do you tap into yours?
Finding Peace in Pendle Hill
Though it may have taken a bit longer than expected, we finally we arrived at the beautiful Quaker community of Pendle Hill…a sanctuary for sojourners like us. When you are on the road as much as we are, you need a place where you can stop ~ but it's not just about physical rest. Pendle Hill is a respite for the soul.
Pendle Hill is a center for study and contemplation into the deep Quaker qualities of Simplicity, Peace, Integrity, Equality, Community, and Stewardship.  We first learned about Pendle Hill through the work of Parker Palmer and Sally Hare.  They both teach and lead workshops on hearing our own divine inner wisdom, and, most importantly, how to live in the world from a place of peace and service.  People who stop at Pendle Hill, either as a sojourner, student, or scholar, are preparing themselves to go back out into the world to be a force for good.
This week, I've thought, "I just might be a Quaker." Quakerism is a fascinating faith and a practice dedicated to peace in this world for one and all. Today I interviewed Nancy Irving, a resident dignitary at Pendle Hill. She graciously agreed to take a few moments to share with us some of her knowledge and wisdom.  See the short 4-minute video on the right.
Michael and I spent our five days here waking to a wonderful breakfast prepared by the staff and shared with the entire community. Most of the people who live on the grounds are either staff, students, or residents. We then all joined together for an unprogrammed service where we sit together in silence, deep in prayer, listening for the inner teacher and the voice of spirit.
We spent our mornings and afternoons reading in the library, talking to the people on campus and visiting nearby Swarthmore College. The evenings were for yoga, art classes, or lectures and ended with Epilogue…a time for shared meditation before sleep. We are now revitalized, re-centered, and ready to return to our journey.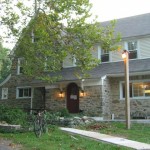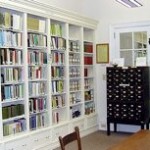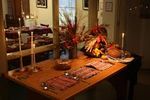 The Inner Journey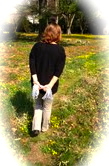 "May you always trust that you are exactly

where you are meant to be."
Walking the labyrinth at Pendle Hill was a perfect exercise for contemplating the twists and turns on the journey. I reflected on the wisdom of the above quote that was posted just at the entrance to their beautiful library.  It was written just for me, I know.
I've always been one willing to go off the beaten path and to take a chance. Sometimes it's been a good thing and sometimes it's been difficult, painful, and taken longer than it should have.  But one thing I'm sure of…they are all places I was meant to be and experiences I was meant to have. At this stage in life, I can see the value in the right turns and the wrong turns. Finally, I appreciate all of the journey.
 

From My Point of View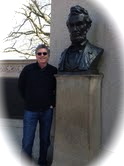 Ever since I saw the movie, Lincoln, I have had an interest in visiting the battlefield at Gettysburg.  This place is well worth a visit and I don't think it was a coincidence that we visited just before we landed at Pendle Hill.
Our first stop was the Gettysburg National Military Park Museum. There's a film that gives you an excellent overview of the history of the Civil War.  After the film you go into the Cyclorama ~ a 360 degree, 40 ft. tall painting of the battle at Gettysburg. They light the various areas showing you what happened each of the three days of battle.  Finally, there is a large museum that covers the war in detail.
After this comprehensive overview, you can tour the battlefield either by bus, individual guide in your car, or a self-directed 3-set CD.  The bus had no appeal and there was no place to put a guide in our car, so we bought the CD's.  We took about 2 hours to drive, stop, listen, and think about what happened here.
There were so many stories of great courage and fortitude on both sides.  There were personal stories of great friends that chose opposite sides and ended up fighting each other.  And there were stories of soldiers on both sides who just wanted it to end.
The combat was brutal and up close.  Marching towards the enemy, in formation, closing ranks when a comrade fell, continuing to advance in the face of cannon fire and musket shot, and finally, with bayonets fixed, hand to hand combat.  The losses on both sides were staggering. In three days, there was a total of 51,112 casualties – 7,058 killed, 33,262 wounded, and 10,790 missing or captured. The description of the blood-soaked battlefield filled with screams and cries of the wounded haunted me.
Gettysburg is a solemn place and a place for all of us to stop and reflect on why we still try to solve our problems with war.  I am so grateful our next stop was Pendle Hill. Yes, we needed a place to stop and regain our personal peace but we also needed a place to stop and pray for peace for our world.
Coming Up
Tomorrow we leave Pendle Hill for Kripalu in Lenox, Mass.  We are attending a three day workshop on conscious transformation.  (I'll let you know what that means next week.)   And Monday we will take off for Canada…a place called Niagra on the Lake in Ontario. Neither one of us has ever seen Niagra Falls and we are told this is the prettiest little town in all of Canada.
 Join Us on The Journey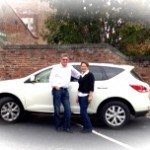 We hope that throughout the year you will keep clicking through to see where we are. We are requesting input and feedback from all of you. Tell us where you'd like to go.  Make suggestions for us. Ask us to check some places out for you!  We are also hoping some of the places we visit and the experiences we share will ignite your life and maybe even set you off on your own spiritual journey.  We'd love to hear from all of you.  And if you know anyone who may be interested, please share our blog.
Tags: conscious transformation, Gettysburg, Kripalu, Lincoln, Lincoln Highway, Nancy Irving, Niagra on the Lake, Parker Palmer, Pendle Hill, Quakers, Sally Hare, sojourners, Swarthmore College, unprogrammed prayer, Yogaville
6 Responses to "Lost in Pennsylvania"
I send you both wishes of safe and healthy journey. I envy your ability to completely detach from day to day stuff. I follow with great interest.
Namaste, Diane
Just did a tour of the Civil War sites here on HHI… Fascinating!
Like the Landing Beaches of Normandy in France, Gettysburg reminds us that freedom isn't free…
Safe travels and enjoy Niagra Falls – it's awesome!
Kathy,
I loved this post! It sounds like a great place and I enjoyed finding it with you.
🙂
Your analogy of getting off the beaten path resonated with me – thanks for reminding me!
Traveling Mercies
I love hearing about your trip as well. 😉 One day it will be me taking this uncharted , Go with the flow, breath in the air , Trip!!!! lol
At the moment i am struggling with designing my own website…(uh think i would rather be traveling..;)
Sounds like one of the lessons learned was letting go of trying to control everything. Getting lost is only a loss of the illusion that you have some control over the outcome. Just like the quote says: may you always trust that you are exactly where you are meant to be.
I missed this blog when it was first posted. Perhaps because today I needed to be reminded, "trust that you are exactly where you are meant to be."
I watched the video interview and it was so good to hear your voice and see your face. I've missed you!
Love,
Jeannie
Leave a Reply