Finding Truth in Yogaville, VA
 Truth is One. Paths are Many.

~ Swami Satchidananda
These words are carved into the gates of the LOTUS shrine in Yogaville, Virginia.  As a matter of fact, they are found throughout the ashram ~ on doorways, plaques, and t-shirts.  This is one of the central teachings of this spiritual community.
The Truth being referred to here is that we are all spiritual beings embued with true divine nature and that we all have a divine calling back to the same source ~ God. Swami Satchidananda says we are all  traveling to the same mountaintop.  However, the paths to the top are many.
Sri Swami Satchidananda (1914-2002) was a Hindu master, with thousands of followers who worshipped him and, to this day, practice his teachings. His message  to the world was of peace, unity, and that all religions are to be honored and revered.  He built a beautiful, majestic shrine and ashram in the valley of central Virginia that does just that.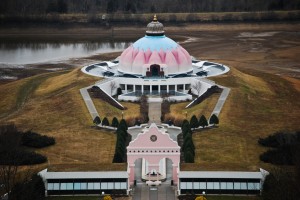 The LOTUS is the shining star, the jewel, of Swami Satchidananda's ashram.  LOTUS stands for Light of Truth Universal Shrine. It is truly a sight to behold and an experience well worth seeking.  If you do nothing else but visit the shrine, I promise, you will have had a spiritual experience.
Check out the video on  from the 25th Anniversary celebration of the LOTUS. 
No matter what faith you practice, everything is covered here.  On the first and second floor of the shrine, altars and educational nooks are built for all of the major religions, not just Hinduism ~ but also Judaism, Christianity, Buddhism, Islam, Taoism, Sikhism, Shinko, African, and Native American.  There is a sacred space for All Other Religions and All Religions Yet to be Known. This shrine was built for everyone.
Yogaville and The Ashram
Though Swami Satchidananda "left the body" in 2002, his work carries on.  Today, his vision, a place he called heaven on earth, is thriving because of a large group of spiritual devotees and seekers  who have dedicated their lives to running his ashram in Yogaville, a small community near Charlottesville, Virginia.
They are continuing the work of teaching and promoting unity, love, and kindness ~ all the while running yoga training programs, residential programs, workshops, and guest stays ~ like ours. During our visit, there was a group for Cancer Survivors, a Course in Miracles program,  and numerous yoga trainings. There was a huge diversity of people ~ young, old, from places all over the world, and for many different reasons.  But everyone got the same thing ~  an experience of love and kindness.
In the cafeteria, signs simply read "Be good.  Do good." "Love all.  Serve All." Also in the cafeteria are large framed pictures of all the great saints, spiritual leaders, and enlightened ones.  From Jesus and Buddha to Black Elk and Mathama Gandhi.  During meals we reflected on portraits of Mother Mary and Mother Teresa to Paramahansa Yogananda and Swami Savananda. Martin Luther King hangs beside St. Francis of Assisi. There are probably 30 holy beings gazing on you, sending messages of peace, as you eat all of your meals.
You can tell this is truly a spiritual community because of the way the people take care of you and take care of the ashram.  From the person who checks you in, to the swami that leads the meditation, or the teachers in the many yoga classes,  love and peacefulness abounds. You can see it on everyone's face.  It doesn't take long before you, too, are reconnected with that which is your own true nature ~ that same love and peacefulness.
The Inner Journey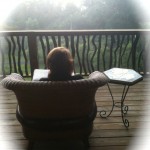 This is a place where one can breathe deeply and let go.   As a part of the guest stay,  you choose your own path. Michael and I got up every morning for yoga at 6:20 and breakfast at 8:00. Then we would hike or read.  I found myself taking naps in the morning and in the afternoon and then sleeping all night. We would attend group meditations several times a day and there  were special programs during the day or after dinner.   You have to experience Laughing Yoga.
Note to my girlfriends:  This is not a yoga spa retreat. The accommodations are adequate at best ~ from dorm rooms to Motel 6 type rooms. However, they are more than enough.  They are well-cared for and  create a very close campus environment. The members of Yogaville also attend the meals and the programs.  You feel you are part of this humble community.
Easter at the Ashram
No, we won't buy property and move to Yogaville to live on the ashram, but we will return.   We absolutely loved the eight days we spent here.
Maybe because it was Easter, which has always been my favorite religious holiday.   I was so glad to see that the ashram was having an Easter Service.  We sang hymns, read the gospels, and had communion. There was a huge Easter feast and even an easter egg hunt in the afternoon.
The teachings of Jesus have always been my path. What you see when visiting LOTUS is that these very teachings are universal in all of the religions of the world ~ to love,  to serve,  and to worship.   We are all the same ~ divine beings seeking God ~ in one way or another.
From My Point of View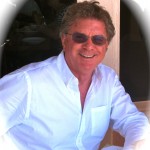 Yogaville was a funny name to me when I first heard it on a visit to Charlottesville four years ago. The name stayed with me and  I wanted to make it a stop on our journey even though I knew very little about it.  I'm glad we did.
This has been a wonderful week for me.  Here's what I've learned:
1.  About Yoga. Too often in the past I have sat on the sidelines just watching life, not living it.  The fear of doing something poorly the first time or looking silly kept me from trying.  So this week, I jumped right in.  Everyday I took a 90 min. yoga class!  When they say bend at the waist and touch your toes, do they know how far down that is for me?  It wasn't  pretty. Yet each day my toes did get a little closer. And I have already mastered one pose – corpse.  I can be totally relaxed with the best of them.
2.  About Reading.  We had a lot of free time and I spent it hiking, napping, and reading.  What a pleasure to read again!  I realized that I had let TV take my reading time.  Hopefully, I can keep a balance between reading and TV when I leave the retreat setting.
3. About Meditating. Each day we meditated for 1/2 hour in the morning, midday, before our evening meal, and then before we went to sleep.  I am going to take part of this schedule into "the real world".  For me, meditation relieves stress and brings peace.  I encourage you to try it.
4.  About Meals.  All meals were vegan.You'd better love rice, beans, vegetables, fruits, and salads.  I have enjoyed it and actually think I've lost a few pounds. I'll add more to my meals in "the real world", but I know I will improve my diet thanks to this week.
5.  About One Truth – Many Paths.  I started thinking about religion and spirituality two weeks ago when I was at the silent Zen retreat.  So many questions came to me as I stared at that wall for hours.   When I walked into LOTUS and saw "One Truth ~ Many Paths", it became very clear to me.
I had been struggling with the awareness that people who I loved, admired, and cared about approached religion and spirituality from what appeared to me to be a very different set of beliefs than mine.  At LOTUS, I realized that the essence of their beliefs are actually very close to mine.  I know that whatever path they choose, we will meet at the mountaintop with love, peace, and unity.  This tolerance will help me with many issues in my life.
I am grateful for this experience and for the people of Yogaville.    I wish you all peace and love.
Coming Up
Today we are leaving for Gettysburg, PA, to stand where Abraham Lincoln gave his Gettysburg Address.  (Lincoln should have been on the wall in the cafeteria at the Ashram.  He was one of the great peacemakers of the world.)  After three days in Gettysburg, we head to Pendle Hill, a Quaker community in Pennsylvania.  We will be there for five days before heading to Kripalu, another yoga retreat, in Lenox, Mass.  Stay tuned for more notes from the road.
 Join Us on The Journey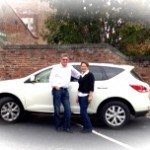 We hope that throughout the year you will keep clicking through to see where we are. We are requesting input and feedback from all of you. Tell us where you'd like to go.  Make suggestions for us. Ask us to check some places out for you!  We are also hoping some of the places we visit and the experiences we share will ignite your life and maybe even set you off on your own spiritual journey.  We'd love to hear from all of you.  And if you know anyone who may be interested, please share our blog.
Tags: All spiritual faiths, Ashrams, Charlottesville, Christ Consciousness, Easter, Gettysburg, Hinduism, Jesus, Kripalu, Laughing Yoga, LOTUS, Pendle Hill, religious figures, Swami Satchidananda, Yogaville
15 Responses to "Finding Truth in Yogaville, VA"
Brenda Whitlow Craig

says:
good morning you two, Sounds wonderful. I want to go. so happy you had such an awesome experience..Finding the Love…that's what living the good life is. thanks for sharing.
many Loving Blessings, Brenda
Dear Kathy and Michael, Loved your blog update on The Lotus…touched my heart and soul and is now on my "must do" list. Thanks so much for sharing your journey with us…truly a blessing.
Charlene
I am especially interested in the Gettysburg adventure. My mother has requested a final trip with just she and my brother to Gettysburg in a few months.
I hope you were able to connect with Meghan. Best and safe travels.
Sounds magical!
Simply beautiful. What a wonderful opportunity and so inspiring. Thank you for sharing your trip. Safe travels my friend.
I have certainly enjoyed your blog! Yogaville sounds like such a peaceful, loving place. Anxiously awaiting your take on Kripalu. I was there in 1987, and have heard it has undergone some changes. Travel safely.
What a wonderful experience. I feel the peace and love just reading your journal.
Love,
Jeannie
I've just put this place on my bucket list. Such a beautiful sharing, Kathy and Michael.
Excellent. Thank you for telling us abut Yogaville. Love hearing from you.
Thank you so much for sharing your journey with us! I have always wanted to do this, but no idea where to begin. I can't wait to do something similar and also to attend one of your weekend retreats.
This guided tour of your journey is so helpful and inspiring!!
Amazing places!! My first job was in Gettysburg – giving tours of the Gettysburg Battlefields! It is a very moving place, beautiful and sad at the same time.. Enjoying your BLOG so much – thanks again for sharing..
Mo
Kathy and Michael,
I'm so glad you enjoyed Yogaville more than the Zen Retreat. I also appreciate your honesty! How wonderful that you had a relaxing and spiritual experience. So glad you enjoyed the Easter service too.
Dianne Miley
I laughed out loud when I read what I think was a typo in the 2nd sentence of your blog, Kathy! I did not know there were plagues in ashrams! Glad you two are having the time of your lives.
That's so funny….no there are no plagues in the ashram….
I wish each of you could have been there with us. Yogaville is an example of how we can all live together differently. Now I don't want to live on an ashram. I want to live out here in the real world. But I want for all of us to live more from love and peace….everywhere. In your hometown…in your house.
I love your comments and being here with us. I try to respond to everyone who writes in, if I missed you….let me know….til next time, after the Quaker retreat!
Thank you for sharing about your beautiful journey to Yogaville, my home away from home.
Looking forward to your future blogs!
Leave a Reply