What Happens When Women Get Together
This past weekend I had the awesome opportunity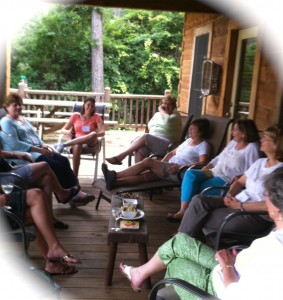 to retreat to beautiful Lake Murray with twelve women from SC and Georgia. I was yet again reminded of the magic that happens when a group of like-minded, heart-centered women gather together for the shared intention of taking the time to reconnect with self and purpose – yet doing it in the company and support of others.  Parker Palmer calls this "being alone together."
We each answered the call to stop and reflect on who we are and what we want. Twelve women, some who knew each other, and some who didn't.  Yet by the time we left on Sunday, we were all sisters. Imagine, women coming together to support each other, to listen to each other, and to honor each other's dreams that are yet to be born.             .                            Magical. Powerful. Just what we all needed.
When you feel lost, when you are tired, emotionally as well as physically, when you can't remember who you are or what's important to you any longer, when you don't know where to go next, it may be  time to go on a retreat. Retreating is good for what ails you.
For some women, it's been a long time since they've stopped. Sure, they've taken vacations. But a retreat isn't a vacation. Yes, we do relax and rejuvenate in beautiful surroundings. But, paradoxically, a retreat is about doing a lot of work. I call it the real work of our lives.

To be guided by your inner wisdom,
you have to stop moving, stop doing,
and listen to yourself.
~ Jennifer Louden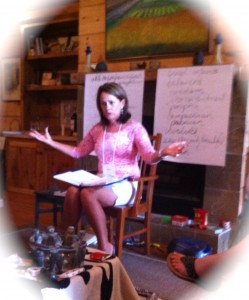 I've been leading my Women's Retreat program for almost eight years now and I am still humbled by what happens when women get together. We created a space for ourselves to drop our masks and our roles, so we could reconnect with who we are.  Most of us have forgotten and we simply need to be reminded.   This weekend,  we also asked ourselves and each other the important questions of our lives.
We used beautiful music, poetry, quiet time, and guided exercises to help us on this powerful journey of rediscovery.  We had deep, loving conversations while together in our circles as well as rocking on the porch overlooking the lake.   We told our stories and shared our dreams and desires.  We helped each other design the courageous next steps we wanted to take in our lives.  Mainly, we remembered that –
We are already enough just as we are – beautiful enough, smart enough, talented enough, loving enough and powerful enough.
The question isn't whether or not you need a retreat. You know you do.   The question is why do you need to retreat and what kind of retreat do you need?
What could a retreat do for you in your life right now?
Tags: women friendships, women's circles, women's retreats
10 Responses to "What Happens When Women Get Together"
What a special weekend we all shared. It is truly energizing to gather with women and take the time to ponder the possibilities of our lives. Each of us experienced peace, love and growth in a very special way.
Kathy is a true leader. She had our group bonded in a matter of minutes. I came away from the conference feeling a renewed energy toward making my dreams come true. I also felt uplifted and enlightened. This experience will always be part of me.
What an experience! Surrounded by loving, intelligent, funny women in a circle of warmth and serenity, I was challenged to find my best self…by my new "sisters", but most importantly, myself! Renewed, inspired and ready to go, I would not trade this weekend for the world. Kathy, thank you for your wonderful leadership as we journeyed to our best possible selves!
I came to the retreat with only a vague idea of how to Ponder the Possible in my life. Through the weekend, with Kathy's guidance and the support from the amazing group of women on the retreat, I felt like I was able to better visualize great possibilities for my life and to make concrete plans for how to get there. This was a great experience!
What a joy to be in a circle of women for the first time in quite a while! Kathy was able to create a safe space for us to "go deep" into what we needed to find within ourselves. I feel renewed and more determined to be the person I'm meant to be.
What an amazing weekend! This was my third retreat with Kathy and each experience has been unique in that I was working on different goals; yet, the same in that Kathy's wisdom and guidance has been invaluable every time…..
I've never been to one of Kathy's retreats but know her personally. She exudes kindness, compassion, and has the most caring heart. Everything about her is authentic.
I loved this blog, Kathy. And the phrase that struck me the most was "honoring each other." Being human we get consumed in our own busy lives and rarely take time to stop, breathe, engage and 'really' listen… not only to our own inner thoughts but to others. When we listen to others and take the time to dive into our own hearts… growth begins to sprout like a seed buried in moist soul.
Blessings Kathy… and keep shining your light, feeding the seeds of womens' souls.
Pattie
Thank each and everyone of you for taking time to write a comment on this post. I do believe that women want to hear from those who have taken this journey. To hear what you experienced is uplifting and encouraging. And Pattie, you must come to the next retreat. You would LOVE it!
sounds like it was a wonderful retreat where all the right people showed up! just reading about it — and letting your comments enter me — soothe my heart and make me feel a bit of retreat right here at my computer! What a gift!
Sounds so inspiring. I hope to get there soon 🙂
Leave a Reply