Joy Radio: Listen to the Conversation
Thank you, thank you, Pattie Welek Hall, for the opportunity to talk with you about the work, my book and the women's retreats.  I hope you will take some time to listen to the interview.
After The Show from Pattie:
Pattie Welek Hall, host of Joy Radio interviewed Dr. Kathy Murphy, licensed professional counselor, personal life coach, teacher, speaker, women's group and retreat facilitator, and author of YOUR POSSIBLE LIFE.  She discussed today what drove her to create her life design model;  gave a sneak peak into her enlightening and inspiring retreat weekends; talked about the commitment, discipline and accountability  to self the program instills; and how she provides a safe haven for women to process their life's work. YOUR POSSIBLE LIFE  is filled with self-discovery tools that will take you up the next rung on your life's journey.  Bottom line is, Kathy's life model  "works, if you work it!"
What are you waiting for? Mark your calendars for her upcoming retreat: October 14-16, 2011 at Palm Key Nature Retreat Center, SC. Visit Kathy's website for more details and sign up today.
Would love to hear your comments. Have a joyous day!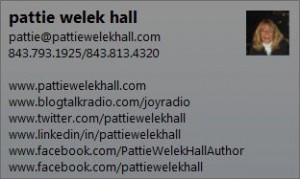 Tags: Pattie Welek Hall, Your Possible Life
2 Responses to "Joy Radio: Listen to the Conversation"
Kathy it was an honor to interview you. Your passion for your life's work is contagious. Thank you for creating YOUR POSSIBLE LIFE and providing the powerful tools needed to change one's life from the impossible to the possible.
Love the interview, thanks for sharing.